GMC Electric Sierra Denali Near Morrow, Stockbridge, Fayetteville, Jonesboro and Atlanta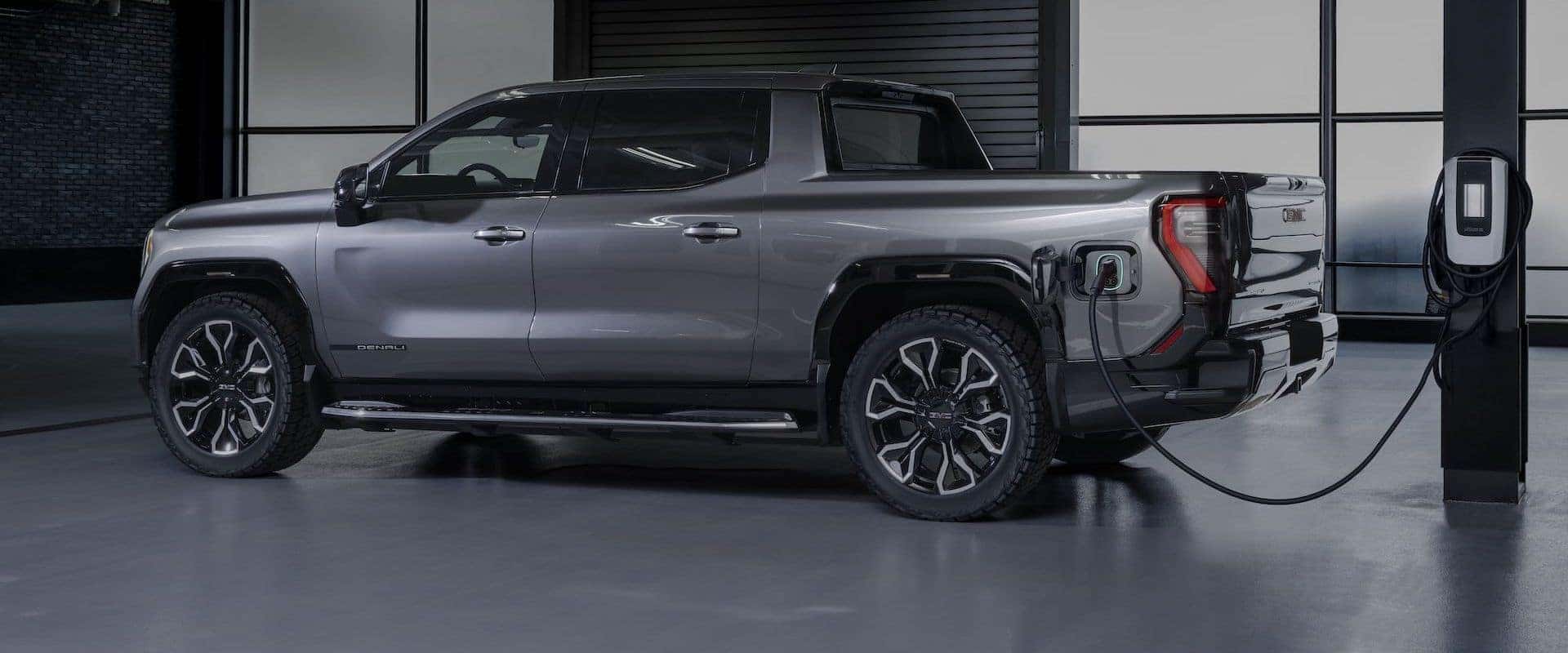 FIRST LOOK AT THE GMC SIERRA DENALI EV
A fully-efficient powerhouse, The Sierra Denali EV Edition 1 has grabbed the attention of electric vehicle and Sierra model enthusiasts, drivers, and collectors worldwide. With an estimated 400-mile range on a full charge, the ability to accelerate from 0-60 mph in under 5 seconds, and an outstanding maximum towing capacity of up to 9,500 lbs, the all-electric Sierra Denali has broken boundaries for both GMC and electric trucks on the market overall.
PRICE, AVAILABILITY, AND KEY FEATURES
Available in early 2024, the all-new Sierra EV Denali comes in at an estimated starting MSRP price of $107,000. Bear in mind that while this is considerably higher than the starting MSRP price of the GMC Sierra Denali, which comes in at $63,800, you are investing in the future of automotive and ultimate efficiency.
KEY SIERRA EV DENALI FEATURES INCLUDE:
GM-estimated range of 400-miles on a full charge
754 hp and 785 lb-ft of torque
0-60 in less than 4.5 seconds
Max trailering up to 9,500 lbs
Super Cruise† Driver-Assistance Technology for Compatible Roads
4-Wheel Steer with CrabWalk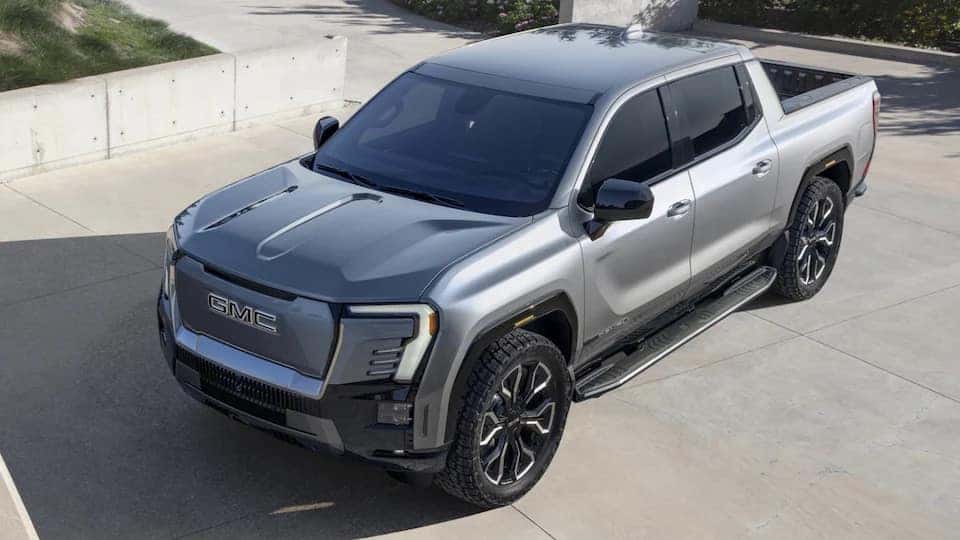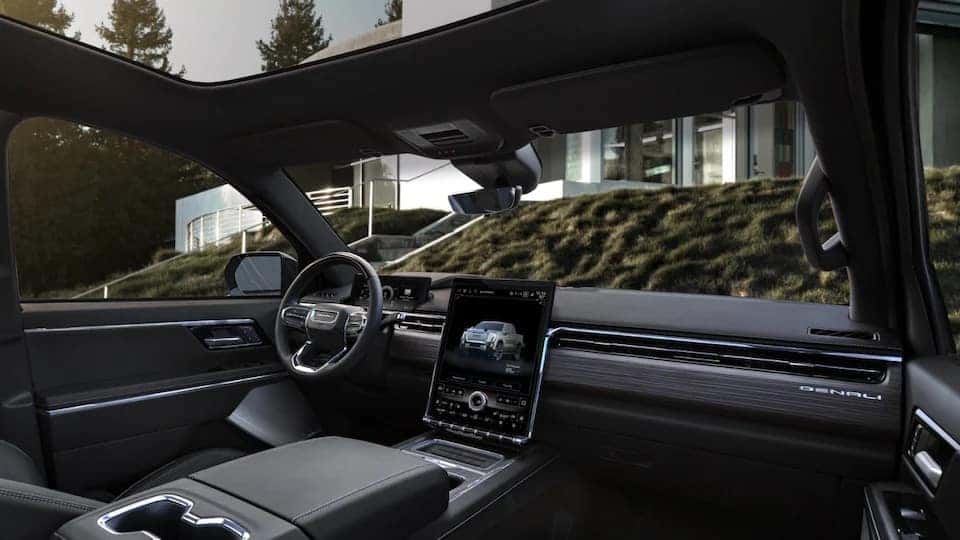 ALL-NEW ELECTRIC GMC SIERRA DENALI DESIGN
The all-new electric Sierra Denali boasts that strong, commanding appearance you've come to expect from a GMC truck — but with a cutting-edge new look. The Sierra EV Denali debuts a polished, striking design on both the exterior and interior, placing emphasis on its advanced technology and craftsmanship.
Exterior
GMC has broken technological and visual boundaries with the exterior look of the Sierra EV Denali. The new body construction of this crossover truck gives it a more expressive shape from grille to gate, starting with the redefined grille that serves as a reliable shield and houses the eTrunk™. The Electric Sierra Denali Edition 1 proudly displays modern finishes, including an illuminated perimeter shield, gloss black accents, lit-up GMC front badging, and distinctive lighting with stunning animated choreography to signal when the vehicle is charging.
Interior
The cutting-edge interior of the Electric Sierra Denali is supported by a strong, contemporary design. Interior features include distinct geometric quilting and horizontal cross-car lines that place a spotlight on luxury and spaciousness.
Premium, genuine materials fill the interior of the Sierra EV Denali. At the center is CoreTec – GMC's new quilted high-performance seating material – engineered specifically to improve strength and stain resistance while maintaining the same level of comfort and luxury-feel drivers have come to expect from GMC trucks. Authentically-engineered bass wood and stylish Galvano chrome finishes highlight the sleek, all-black Denali interior.
Looks aren't everything! The Sierra EV Denali Edition 1 features Air Ride Adaptive Suspension, which brings the truck to optimal ride height and inspires both confidence and comfort on the road – regardless of whether it is fully loaded or unloaded.
GMC SIERRA EV DENALI EDITION 1 PERFORMANCE
The Sierra EV Denali has a maximum towing capacity of 9,500 pounds and is powered by a groundbreaking, next-generation propulsion system called the Ultium platform. It produces 785 lb.-ft of torque and a tremendous 754 horsepower. And that's not all – this all-new electric truck offers various driving modes, allowing you to personalize and optimize your experience in numerous driving conditions. Driving modes range from "Normal" to "Tow / Haul" to "Off-road" and even "Max Power" mode, which provides the capacity for 0–60 mph acceleration in under 4.5 seconds.
The Sierra EV Denali Edition 1 boasts an incredible 400-mile range from one full charge. And when it's time to plug in, the 350-kW DC fast charging capabilities of the all-electric Sierra Denali allow drivers to charge up to 100 miles of range in just 10 minutes.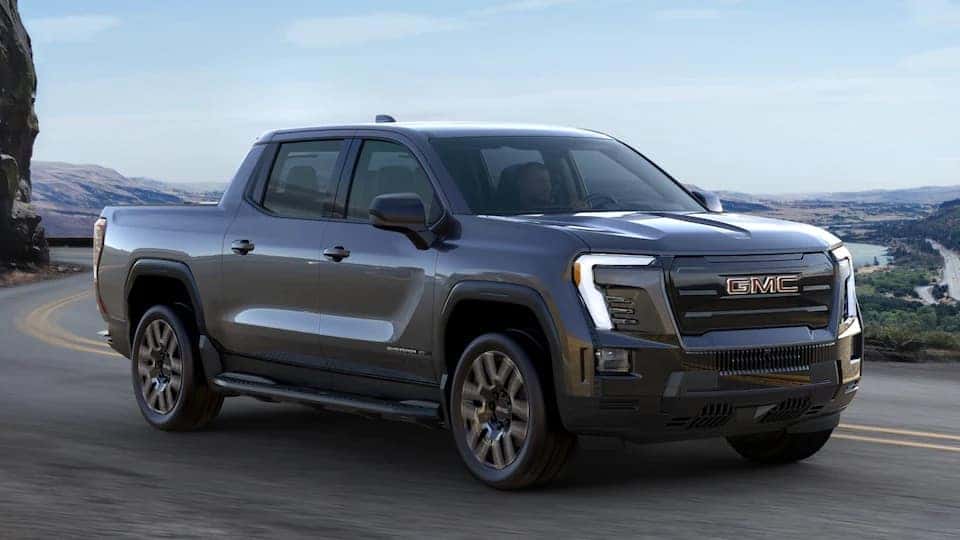 ELECTRIC SIERRA DENALI STORAGE AND VERSATILITY
The Electric Sierra Denali Edition 1 comes equipped with a myriad of features that increase storage and enhance versatility – starting with the MultiPro MidGate, a new venture for Sierra. This cutting-edge cargo solution offers a truck bed that can stretch up to a whopping 10′ 10″ long when used with the load stop function due to removable glass back windows and rear folding seats.
For added adaptability, the Sierra EV Denali comes with an eTrunk™ — a lockable weatherproof chamber in the front of the truck that provides 11 cubic feet† of additional storage, whether you're taking a cross-country road trip or spending a day at the park.
A first for Sierra, innovative 4-wheel steering lays the foundation for CrabWalk™†, a GMC-exclusive diagonal drive feature introduced for the first time with the HUMMER EV.
CrabWalk is the pinnacle of versatility for the all-new Electric Sierra Denali. CrabWalk matches the angle of the rear wheels to that of the front wheels when turning at low speeds for easy diagonal movement, while it matches the direction of the rear wheels to that of the front when moving at high speeds, refining control and stability and fostering smoother lane changes on the highway. In contrast, low-speed corners will have a tighter turning circle since the rear wheels will turn opposite the front wheels — meaning that the Sierra EV Denali can navigate tighter road situations with confidence.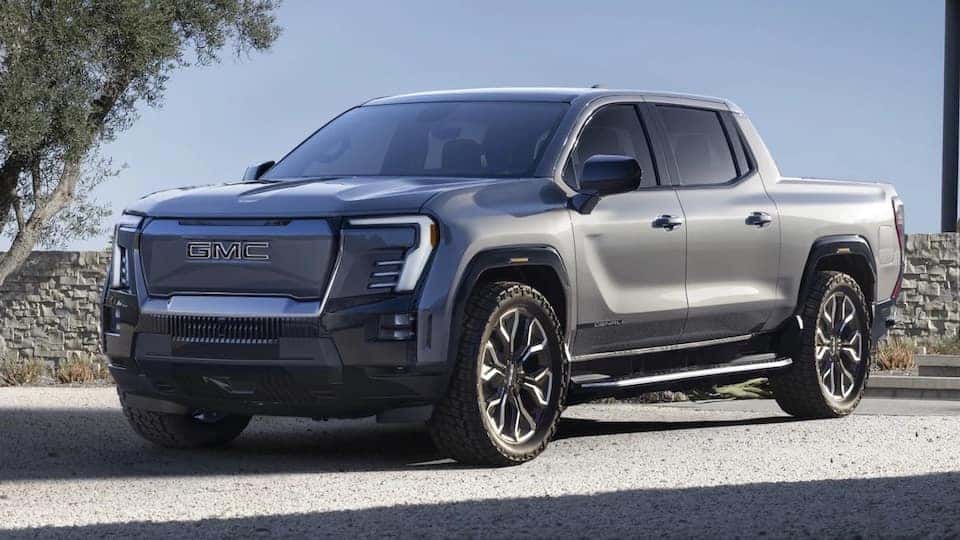 SIERRA EV DENALI TECH SPECS
Upon entering your GMC electric truck, the 16.8″ diagonal center touchscreen will catch your attention right away. This easy-to-use infotainment hub provides a customized, smartphone-like experience with icons that you can arrange and organize to your liking. You can control what appears on the screen instantly with its customizable style.
In addition, the Sierra EV Denali Edition 1 cabin comes with both a 14″ diagonal multicolor Head-Up Display and an 11″ diagonal reconfigurable driver information panel for a seamless behind-the-wheel experience.
The all-new Electric Sierra Denali will come with a three-year subscription to Super Cruise™†, the first genuinely hands-free driver assistance technology. Across 400,000 miles of compatible roads in the U.S. and Canada, Super Cruise accommodates hands-free driving and trailering, as well as automatic lane changing.
And with the Power Station Pro, which comes standard on the Electric Sierra Denali Edition 1, the Ultium battery has the ability to power essential devices and services within your home for up to three weeks when properly equipped.
Unleash the full capacity of your electric Sierra Denali with a three-year OnStar and Connected Services Premium Plan, included in the purchase of this all-new electric truck. To enhance drivers' overall experience, this package offers premium adaptability, security, and access.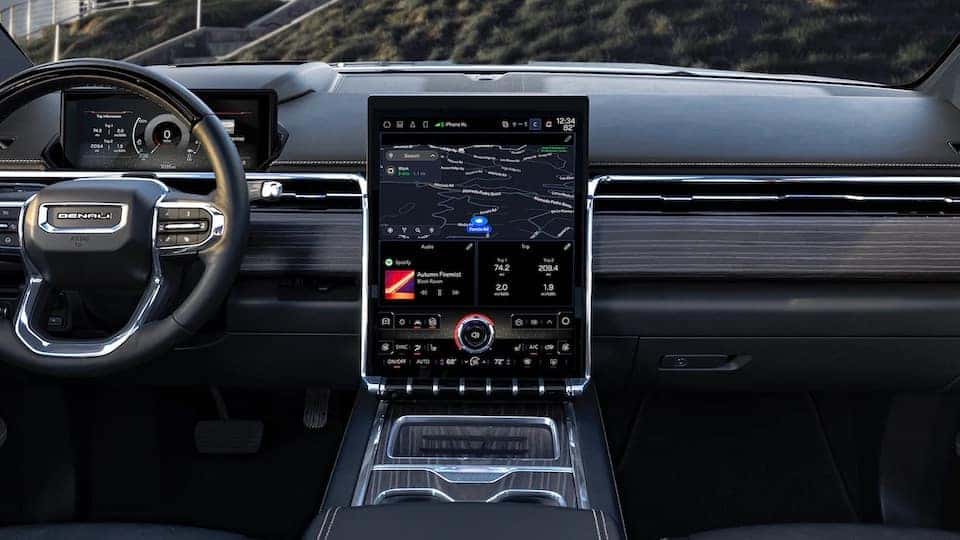 LEARN MORE ABOUT THE ALL-NEW SIERRA EV DENALI FROM HENNESSY BUICK GMC IN MORROW, GA
The Sierra EV Denali Edition 1 is set to arrive on the market in 2024 and has just recently become available for preorder. If you'd like to learn more about an electric Sierra Denali in Morrow, GA, visit us at Hennessy Buick GMC today or simply fill out the form below!
Any Questions?