Buick GMC Lease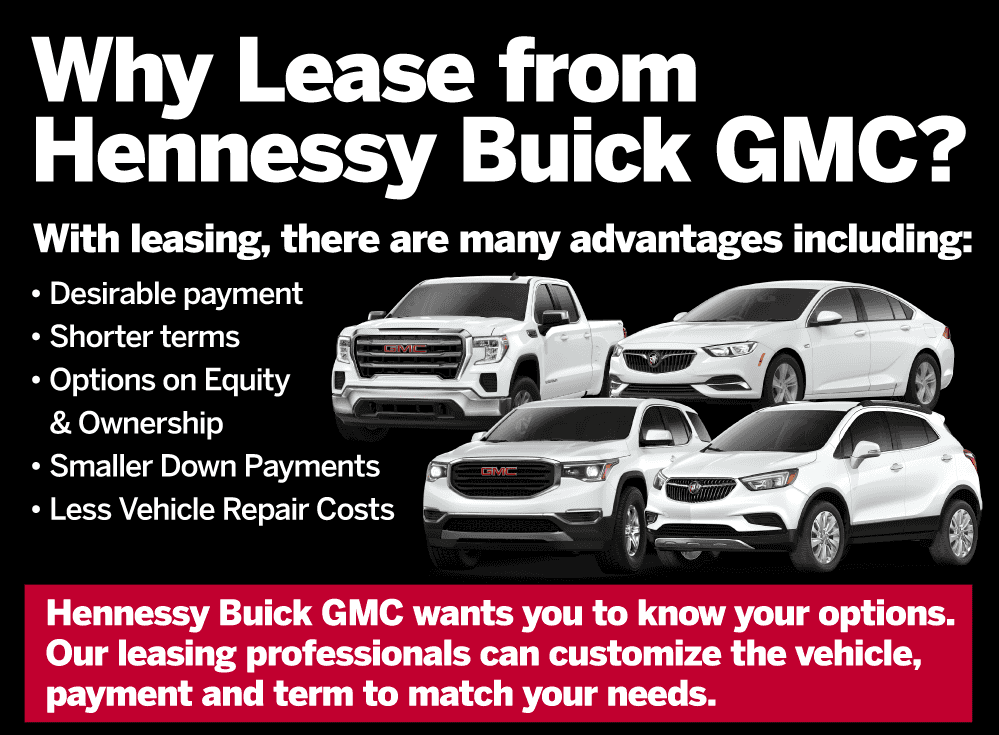 Leasing Deals Near Atlanta
Long gone are the days where vehicle leasing was reserved for just businesses and high-dollar luxury cars. Within the last few years there has been a steady increase in vehicle leases for the average consumer. However, for the majority of auto-buyers still believe in the stigma that leasing a car is bad for you, when in fact it poses just as many benefits as purchasing.
Whether you're in the market for a new GMC Canyon truck, or a Buick Encore SUV, this guide will outline many of the benefits of leasing, while also giving helpful tips for leasing your next vehicle from Hennessy Buick GMC.
Benefits of Leasing
Lower Monthly Payments: The cost of leasing a vehicle is typically much lower than if you were to buy one. You can lease a vehicle with little or no money down, while not having to pay sales tax upfront.
Shorter Terms: Lease terms range anywhere from 24 – 42 months depending on manufacturer incentives, while average auto loans range anywhere from 48 – 84 months. With leasing, you will always a have the benefit of driving a new vehicle more often, so you can stay up-to-date on the latest technology and safety features.
Less Money on Repair Costs: Most leasing terms run through the vehicle's manufacturer warranty, so you don't have to worry about large repair bills. With leasing, you really only have to be worried about routine maintenance and upkeep (like oil changes, tire rotations, wiper blades, etc).
No Negative Equity: A common situation many vehicle owners find themselves in is being "upside down," or owing more on their vehicle than it's worth, which can make it extremely difficult to sell or trade in. With leasing, your payment is tied to paying the amount of depreciation that's expected for your vehicle during the lease term, so you don't ever have to worry about being in negative equity when your lease term is up.
Re-leasing Incentives: One of the biggest objections to leasing is that the lessee doesn't get anything out of leasing at the end of the term. However in order to keep your business, most vehicle brands will offer a special rebate to re-lease with them, which can be combined with other rebates at that time.
Helpful Tips for Leasing
Understand Your Terms: While one of the benefits of leasing is getting out of a vehicle earlier, there are some downsides to shorter leasing terms. Since most vehicle deprecation occurs within the first 2 years of ownership, leases with terms up to 24 months typically get hit with a bigger premium than those with longer terms. With most brands, it generally makes more sense to do 36 – 39 month terms.
Avoid Hefty Down Payments or 1 Payment Leases: A common misunderstanding for leasing is making a hefty down payment in order to achieve a lower monthly payment, or going ahead and paying the lease off all at once. Since leasing involves paying on the depreciation of a vehicle over time, you're going to pay the same amount, whether it's upfront or over time. This way you don't lose the money if the vehicle is ever totaled, because your insurance company with only reimburse the vehicle value, not the money you put down.
Be Aware of the Mileage: Do not agree to a lease term until you understand the number of miles you typically drive in a year. Whether its 10,000, 12,000, or 15,000 miles, make sure you pick a mileage option that best fits your driving needs. Most brands charge anywhere from $.15 – $.30 per additional mile over. The last thing you want is to be stuck with an excess mileage bill at the end of your lease.
Next Steps with Hennessy Buick GMC
Our lease specials can change quickly, so don't miss the chance to take advantage of one that can get you behind the wheel of your brand-new Buick or GMC for a monthly payment you'll want to brag about! Drivers in and around Jonesboro, Wesley Park, and Riverdale, head over to our dealership today. We'll set you up with test drives of your favorite models and help you decide which one is the right choice for you. Then our finance experts can show you how your new car payments will best fit into your budget. With our lease specials, it's much easier than you might think!