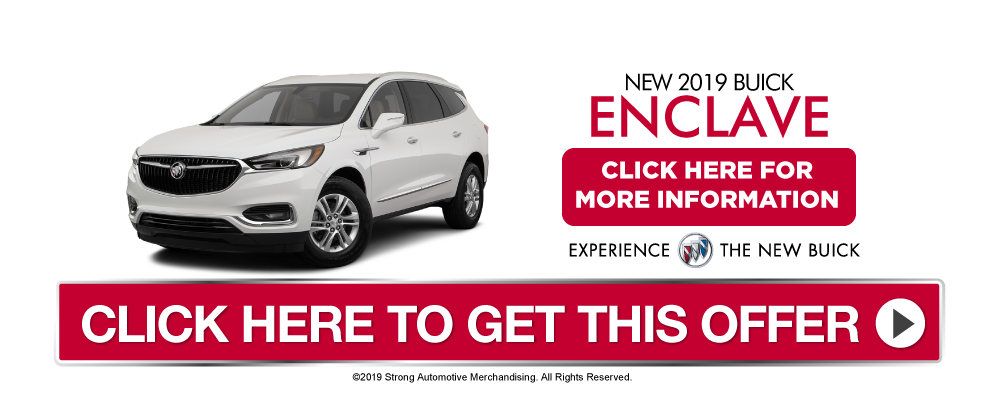 The Buick Enclave: A Standout Three-Row Crossover
You could make a road game of who can spot the most three-row crossovers on any given trip. These imposing family movers are big-not just in size, but in popularity.
Drivers everywhere are falling under the spell of the midsize crossover, and the whys are numerous: These vehicles have tons of space for both people and cargo, features aplenty, and enough safety systems to put even the most cautious driver at ease.
Buick has its own player in the game, and it's an MVP! The Buick Enclave brings together three rows of comfortable seating, a feature-loaded interior, a capable engine, and room to load up all your family's gear in one sleek and sophisticated package. Luxury is the word that comes to mind. And because the Enclave is made by Buick, a brand that prides itself on affordable luxury, that word doesn't translate to "wildly expensive."
Put simply, the Enclave is a shining example of good value.
There's more to get excited about: When you buy or lease your Buick Enclave from Hennessy of Southlake Buick GMC, you can take advantage of our wonderful special offers that will put this luxury three-row crossover even more within your reach.
The same goes for any model in our extensive inventory; at any given time, we're offering unmatched deals on the cars you want. We at Hennessy of Southlake aren't happy until you are-and nothing makes our customers happier than scoring a fine vehicle at an even more attractive price.
The best way to decide if a vehicle is right for you is in person. We can set you up with a test drive after you've explored our inventory of new and used models and narrowed down your options, and then it's only a matter of time before the keys are in your hand! Visit our Morrow dealership today at 7261 Jonesboro Road and start the process.
Check Out the All-New 2018 Buick Enclave
Revamped and ready to go for 2018, the new Enclave has a bold and head-turning presence on the road. Interior space is plentiful, and it can seat up to seven in ultimate comfort.
Technology features abound in this crossover, which offers cutting-edge amenities that enhance connectivity, entertainment, safety, and control. Available features include Apple CarPlay/Android Auto integration, 4G LTE Wi-Fi hotspot capability, a Buick infotainment system with an optional navigation system, and various safety-oriented alerts and automatic braking functions.
This year's model lineup includes four trims, each of which offers its own array of features and capabilities so that you can get the right combination for your needs and budget. You can't go wrong with the base-model Enclave, the Enclave Essence, the Enclave Premium, or the top-of-the-line Enclave Avenir.
Read more.
The Buick Enclave: A Brief History Lesson
The Buick Enclave came on the automotive scene in 2008 boasting roominess, comfort, a car-like ride, and better fuel efficiency than many others in its segment. It also came with many high-end standard features, including tri-zone climate control, an automatic liftgate, and xenon headlights. The following year saw engine adjustments that boosted the Enclave's horsepower from 275 hp to 288 hp, as well as more state-of-the-art tech features like Bluetooth connectivity.
The 2013 model underwent some cosmetic alterations to its grille and headlights, as well as receiving additional tech features.
The completely redesigned 2018 Enclave model is sportier, sleeker, and even more technologically advanced, making it a strong contender in the ever-popular crossover class.
Why Should You Purchase or Lease from Hennessy of Southlake Buick GMC?
Our commitment to you goes far beyond just a desire to sell you a car. We want you to be happy with the entire process, from navigating your options to test driving your favorite models to getting a fantastic price that works well within your budget-and, of course, to that eagerly anticipated transfer of the keys. Looking ahead, our service center is here to assist you with parts, maintenance, and repairs. That's the benefit of a full-service car dealership like Hennessy of Southlake!
Whether you've already explored our online inventory and decided on a few contenders or you're still in the process of narrowing down your options, the friendly, knowledgeable sales associates at Hennessy of Southlake are here to help! Contact us today and let us answer any questions you may have about our stock, financing options, or special offers. When you're ready, stop by our dealership at 7261 Jonesboro Road in Morrow and meet with a product specialist who will work to make this the best car buying experience you've ever had.